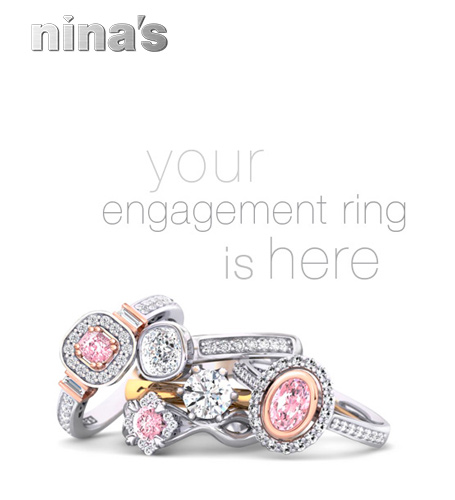 You've come to the right place.
We're confident you'll find your perfect engagement ring within our beautiful range – but, if not, we'll be delighted to work with you to create your dream design.
Whether you prefer a traditional solitaire or a stunning modern design, our beautiful diamond rings will melt your heart. Nina's master craftsmen combine yellow gold, white gold and rose gold with classic white, or fancy colored diamonds in pink, yellow, champagne or cognac, to handcraft breathtaking engagement rings that embody your love.
We'll also help you find a wedding band that perfectly matches your engagement ring.
We've a gorgeous range of designer wedding rings that include diamond wedding rings, men's wedding bands and a lovely range of traditional and modern designs.
our story
Nina's Jewellery has been selling diamonds in the far north tropics of Western Australia for more than 38 years. With our North-West showroom located on the banks of the Ord River in the beautiful township of Kununurra, we are just a "stone's throw" from the world's largest producing diamond mine.
In fact, on April 4 1984, Nina's purchased the first ever diamonds from Argyle Diamonds on invoice 0001. Since then, we've become one of Australia's largest retailers of Argyle Diamonds and an Authorised Argyle Diamond Distributor.
Our second location, on the shores of Geographe Bay in Dunsborough, Western Australia, also stocks a large range of jewels and jewellery pieces, all crafted with Western Australian stones and precious metals.
Nina's Jewellery design and handcraft a stunning range of fine jewellery using Argyle Diamonds, Broome Pearls, Hall's Creek gold nuggets and other gems set in Western Australian gold.
Nina's is committed to fostering the jewellery industry in Australia by providing design excellence and outstanding quality at a competitive price. We employ three jewellers who are all master craftsmen and they are passing on their knowledge and experience to three apprentice jewellers.