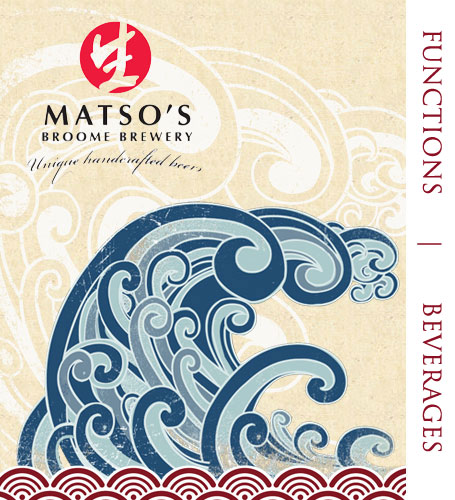 Matso's Broome Brewery is the ideal function venue. We can cater for stand up cocktails, a Kimberley BBQ or a lavish sit down meal.     We'd love to help you with any function at Matso's you have in mind. We can tailor your function menu to suit your guests, so don't stress we'll take care of it.
Please contact us for more details or to stay…
But in the meantime,
Matso's is the Kimberley's award winning microbrewery and is a true Broome treasure. The owners of Matso's Broome Brewery (Martin & Kim Peirson-Jones)are committed to the Kimberley region and the Western Australian tourism industry with an investment in accommodation throughout the region.
At the helm of Matso's Broome Brewery we are fortunate to have the services of Marcus Muller, a Master Brewer who has over 16 years brewing experience around the world. Marcus combines the finest natural ingredients, traditional time honoured brewing techniques and modern technology, to produce a range of beer styles that -above all else- aim to deliver flavour.
Choose from our great range of award winning beers which include Smokey Bishop dark lager, Hit The Toad mid-strength, Pearler's Pale Ale, Mango Beer or Matso's famous alcoholic Ginger Beer PLUS there are many more to choose from. Matso's has also released two craft ciders using authentic Australian Desert Limes from the outback: Mango and Desert Lime Cider and the Desert Lime & Wild Ginger Cider. Stop by the Brewery and try the Matso's range of seasonal beers also on offer.
The Kimberley lifestyle, climate and natural environment is unique and unfettered, and our objective is to create beers of individuality that will reflect the region. With the knowledge and wisdom of 'Old World' brewing to draw from, and the imagination and innovation of 'New World' brewers as our inspiration, we hope to contribute to the future of Australian beer.