An environmentally friendly Retreat and Campground, nestled in the pristine bushland at Joffre Gorge – in the heart of the world class Karijini National Park.
Alongside the outback bush camping experience, the multi award winning Karijini Eco Retreat is the first and only facility to offer comfortable clamping href="http://www.karijiniecoretreat.com.au/index.site.rooms.46.html">accommodation in the Park! Offering quality accommodation and facilities, the management and staff look forward to welcoming you to a unique world of environmentally friendly, affordable accommodation and camping options with a touch of luxury and a taste of genuine mateship and hospitality in outback Western Australia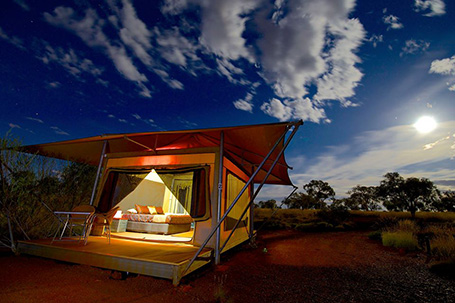 Designed with the environment in mind – guests at the Karijini Eco Retreat embrace a 'greener' style of accommodation. The semi-permanent deluxe eco tents, cabins, campground and facilities incorporate eco-friendly practices which ensure environmentally sustainable management of the natural and cultural values of one of the most ancient landscapes on earth.
At Karijini Eco Retreat we cater for guests of all ages and offer a choice of accommodation facilities ranging from our deluxe eco tents, dorm style cabins, to campsites for visitors that prefer to bring their own accommodation!
The well-appointed eco tents are our flagship accommodation type and are available with an ensuite bathroom. These provide a glamourous close to an adventurous day, offering comforts not usually associated with camping, such as quality beds and linen, fans, fixed flooring and an outdoor deck to enjoy the uninterrupted view of the night sky.