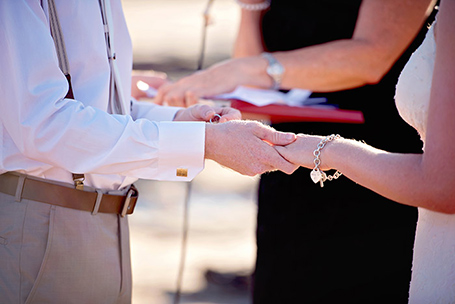 THE CEREMONY
The words which I use to deliver your ceremony will depend on who you are, what you are comfortable with and whether you would like some special elements or traditional rituals included.  I usually start by welcoming your family and freinds, any special guests who have travelled far to be with you and introducing myself as your celebrant.
I can also include some of the story of your unique relationship if this is appropriate for your ceremony. Special guests can play a part by reading passages, delivering rings, giving special messages or participating in your ceremony in other ways.
Then comes the legal part of the ceremony including the vows, witnessed by your guests and the exchange of rings or other symbols of your commitment.
Many couples already have children when they decide to marry and some choose to then add vows to the children, to recognise they're status as a family.  This can be included after the marriage vows.
After this, I declare you married and we sign the marriage certificates to legalise and witness your union.
Finally, I bring you before your guests again, conclude the ceremony and introduce you as husband and wife.
Whether you are looking for a very simple, brief ceremony or something with more content and symbolism, my writing background allows me to help create something with will suit you and your personal style.
TRADITIONAL CUSTODIANS
In recognition of, and in respect for the people who are the long-standing custodians of the land on which your wedding takes place, I am able to include an acknowledgement during my introduction to our marriage ceremony if you feel this would be appropriate.